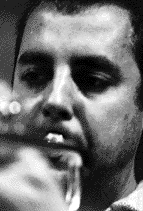 was born in Osnabrück, Germany on February 1, 1971. He attended Koninkliyk Conservatorie/Den Haag and Musikhochschule Köln, where he studied
jazz-trumpet with Markus Stockhausen, Ack van Rooyen and Manfred Schoof. In 1998, he graduated – mit Auszeichnung – in music. His jazz-ensemble the "Christian Winninghoff Group", took part in numerous jazz-festivals. In 1995 they belonged to the winners of the Competition for young jazz ensembles in Leipzig and in 1996 they reached the final of the "Getxo Jazz Competition" in Spain.
Christian played/recorded with: Bundesjazzorchester (1995-1997), Adrian Farrugia (Can), Der Wolf, Soulcats, Markus Stockhausen, Patrick Christensen Group, Mr. Slin + the Funk, IASJ Big Band feat. Michael Brecker + Dave Liebman, Sunday Night Orchestra, Rainer Tempel, Luiz Viera, U-Soul, Haydn Chisholm.